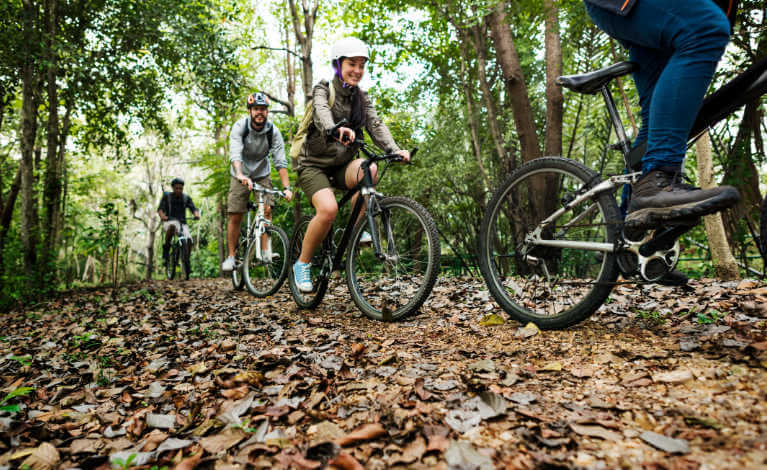 Local Cycling Routes
Whether you're planning to come to Hadrian's Wall Country on a short-stay cycling holiday, an organised cycling tour or simply plan to explore some of the beautiful countryside on 2 wheels during your weekend or mid-week stay, glamping or camping at Herding Hill Farm is an ideal base.
Situated in the centre of Great Britain, just north of Haltwhistle, our campsite offers a range of additional facilities and services to help make your stay more comfortable. You'll find free hot showers with lots of room, bath tubs in our ladies' facilities and family bathroom, and a unisex sauna that is free to use on Fridays and Saturdays (between Good Friday and late October). Very welcome after a hard day's cycling! During the high season it is also free to use on Wednesdays.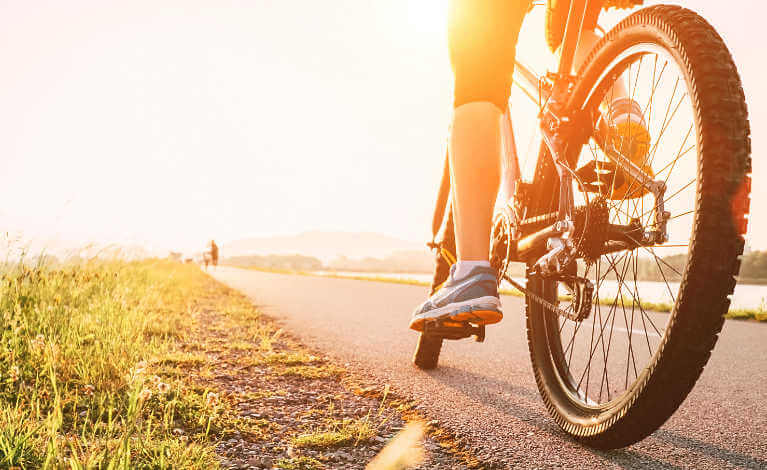 Hadrian's Cycleway
Dramatic scenery, quiet trails and historic Roman sites have made the Hadrian's Cycleway one of the best long-distance cycle routes in the country. The 173 mile (277 Km) cycling route stretches the length of Hadrian's Wall, linking Ravenglass in the western Lake District, to either Tynemouth or South Shields on the North East coast. A shorter version of the ride starts at Bowness-on-Solway. Most of the route follows well-surfaced gravel cycle paths, tarmac cycle paths and quiet minor roads. Signposted as National Route 72 (NCN 72), there are no difficult off-road sections, but there are a few steep, short hills in the central section (up to 150m height climb). For more details about National Route 72 of the National Cycle Network, click here.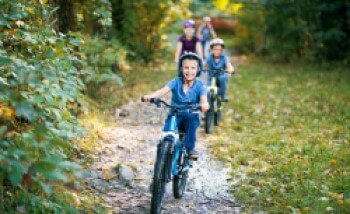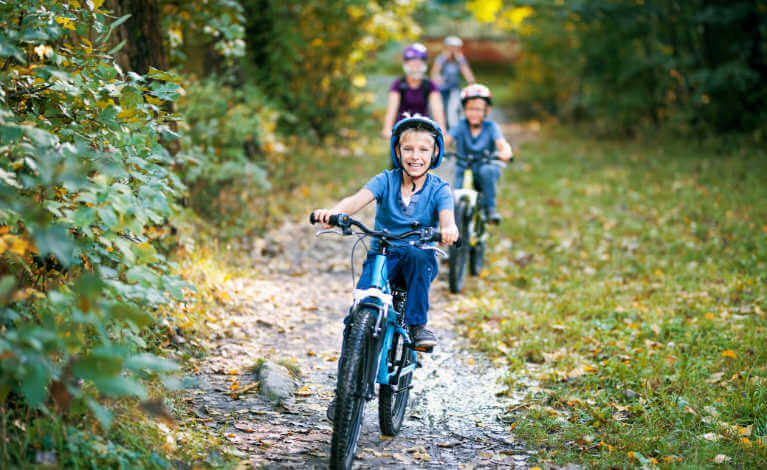 Cycle Trek
Another way to traverse the length of Hadrian's Wall is on a 'Cycle Trek', a combination of cycling and walking. In simple terms, you cycle the flat bits at either end and you walk the hilly bit in the middle. We will happily take your bike from you at the start of the hilly bit and meet you at an agreed rendezvous point, from where you can cycle back to the campsite.
Cycling trail suggestions
National Route 72 (NCN 72)
A quick snippet of advice if you're cycling east towards Herding Hill Farm along Route 72, rather than turning off the B6318 and descending into Haltwhistle, make a slight detour and save yourself a very steep hill climb back up! Stay on the B6318 for a mile or so until you reach the Milecastle Inn and turn right there.
River Tyne to Chesters
Make your way up the River Tyne from Hexham on Hadrian's Cycleway, then follow the North Tyne river through peaceful countryside to visit Chesters Roman Fort and Chesters Walled Garden. Quiet roads and tarmac riverside path with a few steady climbs.
South Tyne Trail
Ride through the peaceful South Tyne Valley on a traffic-free greenway to the spectacular Lambley Viaduct. A mix of compacted gravel path and quiet roads with one short but steep hill (which can be avoided by retracing the route directly back to Haltwhistle from point 7). The greenway forms part of the Pennine Cycleway with its distinctive blue signs with the number 68.
The Wall and Beyond
Take a beautiful ride north from Haltwhistle visiting two of the most famous viewpoints on Hadrian's Wall and enjoying the quiet Northumberland National Park moorland on the 'far side'. All quiet roads, but take particular care at the two crossings of the Military Road (B6318). Several steep gradients and remember to take a bike lock.
Vallum and Views
Spectacular scenery all round - great views of Hadrian's Wall and a fascinating museum make this a ride worth spending all day over. Part of the ride is along the Vallum - ditch and earth mounds controlling the military zone south of the actual Wall. One steep hill, a bit of gravel track and a short section on the fast Military Road (B6318).
Vindolanda and Stanegate
On this linear ride you'll be following a superb section of Hadrian's Cycleway through some of the best-known parts of Hadrian's Wall Country, including a visit to Vindolanda Roman Fort and a ride along the 'Stanegate', the old Roman road. On quiet roads with one steep climb and a section of tarmac riverside track.